So…after busting both rear shock mounts on the "maiden voyage" in the '37, I had a lot of time to think about and consider what kind of shock mounts I was going to replace the broken ones with. Since the car has a Columbia 2 speed rear end, I decided to use the cast metal mounts by Pure Hot Rods, out of Aledo, Il.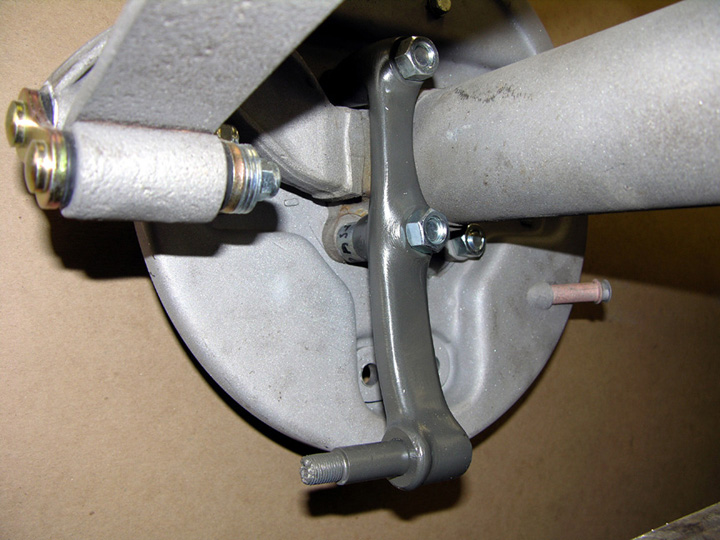 (picture is from their web site, not my install)
These shock mounts are designed after the tube shock mounts for a '46-48 Ford, but are 2″ longer, to allow for a lowered rear suspension.
Since the failed mounts were actually installed between the radius rod mount and the axle flange, and the disc brake caliper mount was mounted outside of that, it made for an interesting first side install, but at this point, I am quite pleased with how nicely these work and look. I was also able to measure the "ride height" of the car, to be able to find shocks that would fit. Pin to pin, with the car level on the ground, it's right at 14″.
I chose to use Monroe 32207, which has a 5/8″ mounting loop at top and bottom, a compressed length of 11 1/4″ and extended length of 17 7/8″, providing 6 5/8″ of overall travel. The top end of the shocks will be bolted to a pin kit that I picked up at O'Reilly, out of the "HELP" section.
Gonna work on the passenger side this evening, and will take a few pictures. Since the majority of the time I have spent behind the wheel of the '37 has been with either broken back shock mounts, or NO back shocks, I am excited to get this project completed, and see how the car REALLY is supposed to ride!
Bret
bret@streetrodder.net
www.streetrodder.net
The FUN is in the RUN!!!